Company
43 years of experience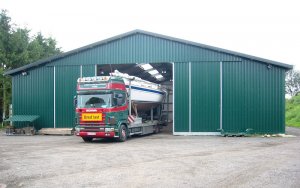 In the year 1974 Mike Ford founded the company Ford Transport Services (FTS) and started to specialize in transport of large cruiser yachts all over Europe. He was one of the pioneers in this field.
In 1979 FTS started the tradeshow transports for the Swedish shipyard Hallberg Rassy. Since then a good relationship has emerged and today we are the prime transporter for Hallberg-Rassy.
In 1985 FTS became the first company in Europe, to use an off-loading system that was suitable for long-distance transports that made possible the loading and unloading of a yacht including it's cradle without cranes. This system has been improved over the years and now is used at tradeshows all over Europe for yachts up to 35 t.
Mike's son Sven has also contributed to these improvements. He grew up in the family business and early on had to become familiar with all aspects of it. He got involved with the company with growing enthusiasm and took control of the company in 1994. In the course of this change of generations FTS was renamed Ford Yachttransport GmbH. We are still a family company – with 3 staff members, where individual care of the client and utmost reliability has special importance.